Description
NovX Cross Trainer/Competition Ammunition. What do shooters look for in the perfect cross-training and competitive shooting round? A bullet that's lightweight, powerful, fast, accurate, and offers less recoil for quicker follow-ups. That's everything found in the RNP Cross Trainer/Competition bullet from NovX. The poly/copper projectile is frangible and breaks apart upon contact with hardened steel. The stainless-steel casing is self-lubricating for consistent, jam-free ejection, won't corrode, and limits bore fouling.
The RNP bullet version of the polymer-copper bullet is the Round Nose Precision, a solid-core injection-molded copper-polymer bullet that rivals any competition-level target shooting cartridge. The RNP projectile is the ideal choice for both the professional shooter looking for extreme accuracy, due to near-perfect concentricity and almost undetectable weight variation between bullets, and the amateur reloader/shooter looking for a low-recoil, precision target round to hone their craft.
The NovX SST NAS3 Stainless Steel shell casing is paired to a primer pocket constructed of 7078 hardened aircraft quality aluminum plated with nickel. The NAS3 stainless steel casing, far superior to extruded brass, provides strength, weight, dimension and alignment. For shooters this means unparalleled power, higher velocity, greater efficiency, cycling, and accuracy, reduced weight, reduced bore fouling and corrosion, and increased reloads.
Features
Ballistically matched to Engagement Extreme
Poly/copper projectile is frangible – breaks up upon impact with hardened steel
Stainless steel casing provides strength, power, alignment and less weight
Flies fast, flat, accurate, and with less recoil for smoother target reacquisition
Increased efficiency and cycle rate
Reduced bore fouling and corrosion
Lead-free for compliance at ranges.
Magnetic
Reloadable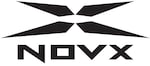 Made In United States of America